Library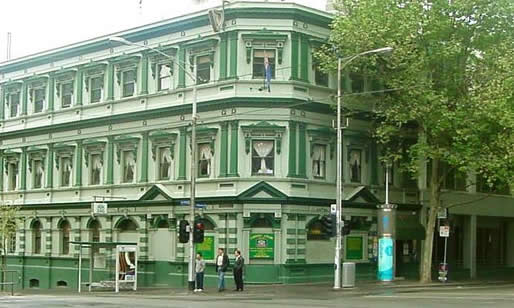 Celtic Club, former home, 316-320 Queen St, Melb. Vic, 3000. It will be their future home in about 3 years as the base of a new 48 storey building
A Library for Eureka's Children
The Celtic Club has welcomed Eureka's Children and has not only provided a venue for us to hold our monthly meetings and other activities and enjoy the hospitality of the Club but has also incorporated in the library a special section for Eureka publications.
The Club library has over 3,000 books including periodicals and magazines. The club sold its premises in Queen Street for $25 million with a permit for a 48 storey building, and has an option to go back into the bottom 4 levels of the proposed building which will take 3 years to build, so the club library is in storage and is therefore non-functional at the moment. However, we encourage Eureka members to consider donating books (they don't have to be new) to expand and enhance our special collection on Eureka and Democracy. The Eureka section also includes a complete collection and index of our 'Liberty' newsletter.
For further information and donations, contact the Cultural Heritage office of the Celtic Club phone 8535 4506 which is located at Club administrative centre 420-424 William Street West Melbourne 3003 or call in with your book donations. If you wish to donate books on the weekend please call at the Celtic @ Metropolitan (the new licensed venue for the Celtic Club) on the corner of Blackwood and Courtney streets North Melbourne.


Eureka's Children Liberty! Index
- Articles listed by author
- Articles listed by topic
BOOK REVIEWS
Book Reviews in Liberty!
FEBRUARY - 2014 (NO.51)
'The Forgotten Rebels of Eureka' - Author: Dr Clare Wright - Click here
'Calico Ceilings - The Women of Eureka' - Author: Susan Kruss - Click here
'Eureka' 4th Edition (recent release) - Author: John Molony - Click here
'The Eureka Uprising - by eye-witness James Allen' - Click here
DECEMBER - 2012 (NO.48) - Click here
'Eureka Stockade: The Unfinished Revolution' - Author: Peter Fitzsimons
MAY - 2011 (NO.43) - Click here
'Sideshow - Dumbing Down Democracy' - Author: Lindsay Tanner
Archived Book Reviews

(For all archived book reviews refer to the Liberty! archive at the Celtic Club Library)
AUGUST - 2010 (NO.41)
'Death or Liberty: Rebels and Radicals transported to Australia, 1788-1868' - Author: Tony Moore

APRIL - 2010 (NO.40)

'What's wrong with ANZAC? The Militarisation of Australian History' - Authors: Marilyn Lake and Henry Reynolds

'Women of the Diggings - Ballarat 1854' - Author: Dorothy Wickham
SEPTEMBER 2009 (NO.39)
'The Life and Death of Democracy' - Author: John Keane
JULY - SEPTEMBER 2008 (NO.35)
'Great Australian Goldrush and Eureka Stockade' - Author: Bob Walsh

'Eureka and Beyond: Monty Milly His Own Story' - Editor: Vic Williams

'Eureka; Releasing the Spirit of Democracy' - (Special Issue - Journal of Australian Colonial History Vol.10 No. 1)

'The Declaration of Independence: A Global History' - Author David Armitage
JUNE - 2008 (No.34)
'Deeper Leads: New Approaches to Victorian Goldfields History' - Edited: Keir Reeves and David Nichols
'Eureka: Reappraising an Australian Legend' - (Symposium papers by Melbourne University Cultural Heritage Unit. Edited by: Alan Mayne)
MARCH - 2008 (No. 33)
'Anastasia: Woman of Eureka' - Author: Vivienne Worthington