About Us
To see our Association's Rules Click Here
Eureka's Children is primarily an association of the descendants of those involved in or associated with the Eureka Stockade event, its prelude and aftermath and those who support its ideals of democratic principles.
Membership is open to all descendants of thise who were involved in the events of Eureka.
Membership is also open to those individuals or corporate bodies who may not be descendants but who have a special interest in Eureka and its democratic ideals and who wish to support the work of Eureka's Children
To see a video about 'Who are Eureka's Children' Click Here
The Association believes that the roots of Eureka and the stance by the diggers at the Stockade lie deep in the soils of many nations. Among the thousands of people who came to the Victorian goldfields were refugees from political oppression, from economic disaster and from famine. Many had experienced revolution.
They had come to a new land with the hope for a better life and many with a ferment of ideas concerning social justice, the rights of man and the principles of democracy.
At Eureka and across the goldfields,  these hopes and ideals were severely challenged and diminished by an authoritarian and rigid class conscious government of the old European order that imposed excessive gold licence fees and licence hunts, ignored corruption and abuse by police, restricted political rights and access to land  and who were "determined to put down  democratic agitation".
And so, it was at Eureka that the diggers built their Stockade not to launch an attack but to stand and defend, under the flag of the Southern Cross, their rights and  liberties, to protest against oppression and corruption, to fight for freedom  and to assert their democratic rights.
Whilst the Eureka Stockade was a battle lost – it was a victory won;  as it was the courage and vision of the diggers and their supporters that contributed to the installation of a more responsible and democratic government soon after this historical Eureka event.
Furthermore, the Association believes that the story and importance of Eureka is not just about a bloody battle at the Stockade where men were prepared to lay down their lives for their 'rights and liberties', but also it is about that  series of well organized, non- violent  democratic events by the diggers and their supporters preceding  the Stockade  that illustrate the power of the people in demanding their 'inalienable rights'.
These events which include: the Monster Meetings at Bakery Hill, a Charter - a Manifesto proclaiming their Demands and an Oath under the Flag of Southern Cross, are powerful and important iconic democratic symbols. They speak to us of the importance of a free society being prepared to react to oppressive authority while seeking fairness and equity, valuing human rights and respecting human dignity. They wanted a government of the people for the people.
The Association seeks not only to commemorate the events of Eureka but also to encourage a broader discussion about the values inherent in the goldfields community's quest for representation and basic freedoms and the role that these democratic ideals and values have in our contemporary Australian society.
Eureka's Children makes representation to all levels of government and other organizations; promoting the story of Eureka, the Museums of Australian Democracy at Eureka (MADE) and in Canberra, as well as promoting Eureka's Children various activities and objectives.
The Association was incorporated in 1998. It has a Web Site and publishes a quarterly newsletter 'Liberty!' which includes articles of special significance regarding the Eureka story, issues concerning our democracy, Eureka events and commemorations and other matters of general interest. The newsletter is available for download CLICK HERE
Key Objectives
To gain Australia-wide recognition and acceptance of the view that the events of Eureka - the Stockade, the Monster Meetings at Bakery Hill, the Charter demanding democracy and the Oath under the Flag of the Southern Cross are of national significance in the history of this country.

To recognize the importance of those other earlier events of disenchantment with government impositions across Victoria's goldfields such as at Castlemaine, Chewton and Bendigo which culminated in 1854 at the Eureka Stockade in Ballarat

To gain greater recognition of the democratic ideals of the Ballarat Reform League Charter and its importance nationally and internationally as a democratic document; the principles of which are enhanced in the Australian Constitution and which is entered on the UNESCO Memory of the World Heritage Register

To gain endorsement for the proposal that the Eureka Flag belongs to the people of Australia and should be included on the Australian Heritage Register and also recognized as an official Flag of Australia.

Continued involvement and regular meetings with The Museum of Australian Democracy at Eureka (MADE), including the chairman and director. Eureka's Children's recognition and involvement with MADE is essential to the future of both entities.

To identify as far as possible all those who were involved directly or indirectly in the Eureka Stockade events and make this information and any related stories generally available, particularly through our Ancestor Database: The Eureka Directory.

To generate publicity, discussion and debate in relation to all aspects of Eureka events, and in doing so promote the further development and greater understanding of Australian democratic traditions and practices.

To become more significantly involved in the political narrative of democracy at home and abroad, to be ever vigilant, to speak out against threats to democracy, to promote democratic change, and to promote political awareness within the education system and cultural spheres.

To utilise advocacy to encourage citizens to exercise their fundamental rights and to defend fairness, human dignity, equity and community interests.
The membership of the Association is predominantly made up of descendants of the diggers and others associated with the events of Eureka in 1854. See description above.
Associate Membership
Membership is open to people and corporate bodies who may not be descendants but who have a special interest in Eureka, its ideals of democratic principles and who wish to support the work of Eureka's Children.
Eureka's Children Committee
Executive:
President – Eric Howard
Vice President – Vacant       
Acting Treasurers – Conrad Corry & Phillip Moore - 320 Queen St, Melbourne VIC 3000
Secretary – Peter Gavin - 320 Queen St, Melbourne VIC 3000
Other Committee Members:
Peter Lalor Philp, John Capp, Leigh Callinan, Maurice Hanrahan, Conrad Corry, Rosemary Callanan & Margaret O'Brien
Eureka's Children Canberra Chapter
Chair - Emeritus Prof. John Molony - 19 Wybalena Gr, Cook, 2614
Secretary - Terry Quinane - 48 Wheadon St, Monash, 2904
Other Committee Members: Dr Richard O'Brien, Richard O'Neil, Ass Prof. Jeff Brownrigg, Dr David Headon, Anne Quinane, Bernadette O'Neil, Bob Hutchison
For Information Contact:
Phillip Moore - Email: philmoore@optusnet.com.au
The Annual Eureka Week Commemorations in Early December
Eureka's Children contributes substantially to the planning of the annual Eureka Week Commemorations.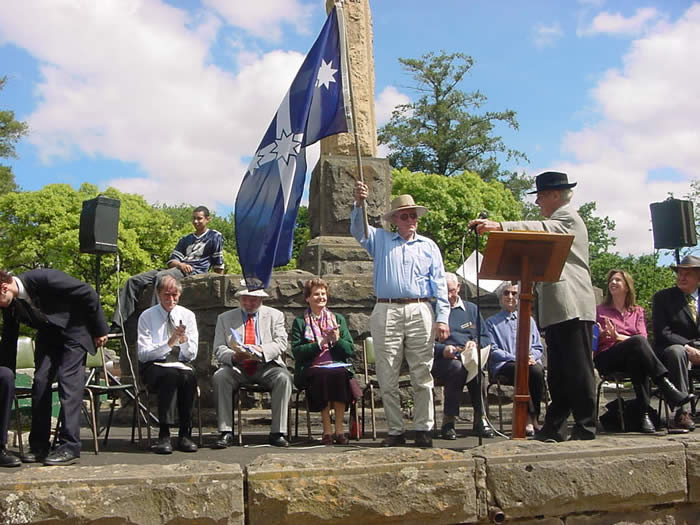 In Ballarat We organise and oversee the Eureka digger's march from Bakery Hill to the Stockade, the Demanding Democracy March and Theatrical Presentation as well as assist St. Alipius Church in presenting the colourful and uplifting Eureka ecumenical service.
In Melbourne Eureka's Children hold the Annual Eureka Dinner at the Melbourne Celtic club, that includes a notable guest speaker and at which the Eureka Democracy Award is presented.
In Canberra In 2013 Eureka's Children Canberra Chapter was launched at a special dinner on December the 3rd at the Canberra Southern Cross Club in Woden. The Chapter now holds a Eureka Commemoration Dinner each year in December.
National Conferences Eureka's Children contribute speakers to various conferences on matters related to the Eureka story and generate discussion and debate when appropriate on a range of Eureka related issues.
For our Events details CLICK HERE
The Eureka Democracy Award
The Eureka Democracy Award given by Eureka's Children is presented to an individual or organisation who by their actions; have contributed to a more democratic and just society, have kept alive the vision of democracy in contemporary Australian culture and which reflects the values established at Eureka
For further information on the award CLICK HERE