Eureka's Children Membership
Eureka's Children Inc. is the Association for descendants of those involved in the events surrounding the Eureka Stockade battle on December 3rd 1854. Membership is also open to those people who support the Eureka story and its ideals of Democracy. The Association was formed for the purpose of encouraging the understanding and significance of these historic events, to provide a forum for discussion and to present a range of programs and events that celebrate Eureka.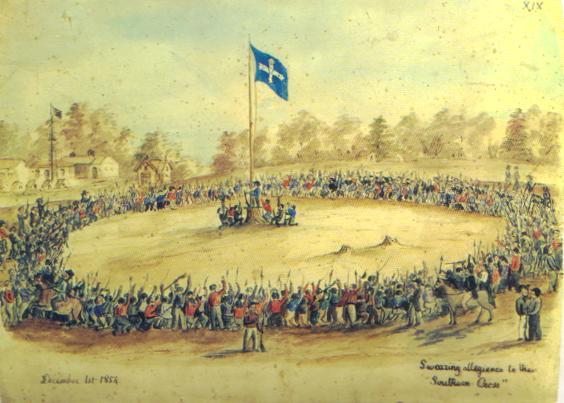 Membership
Membership is open to all descendants of those who were connected with the Eureka Stockade event, its prelude and its aftermath.

Membership is also open to those who have a special interest in the Eureka Stockade story, its ideals of Democracy, and wish to support the work of the Eureka Children Association.
Membership types include; Full, Concession, Family & Family Concession & Life.
Benefits of Membership
Opportunity to learn about, support and promote the ideals which Eureka represents and especially the contribution of Eureka to the development of Australian democratic practice.

Opportunity to meet and join the descendants of those connected to the Eureka Stockade event; its prelude and aftermath, and including those people who have a special interest in Eureka and its ideal of Democracy.

Opportunity to register your Eureka connection on our Data Base and in future publications of our Eureka Descendants Directory and to develop further insights into your ancestors' involvement, family relationships and friendships.

Opportunity to support various Eureka programs and events such as those organised by Eureka's Children and others at the Annual Celebrations of Eureka in Ballarat, Melbourne and Canberra, as well as those presented at the Museum of Australian Democracy at Eureka, and the Centre for Democracy at Old Parliament House in Canberra.

Invitation to special Eureka events throughout the year and the opportunity to meet authors, speakers and performers.

Representation through our Committee on various other Eureka Planning Committees providing greater opportunity to promote Eureka's Children's interests in achieving comprehensive recognition of the significance of Eureka.

Access to the hospitality of Melbourne's Celtic Club, where our Committee meets, and to their library with its special section on Eureka and Democracy.

Subscription to our Eureka's Children newsletter – Liberty!