Events
Events 2018
You are all invited to the Annual Eureka Democracy Award Dinner.
Venue: AMORA HOTEL, 649 BRIDGE ROAD, RICHMOND
Friday November 23, 2018 - 6.30pm for 7.00pm.
THE EVENING COMMEMORATES AND CELEBRATES THE 164th ANNIVERSARY OF THE 1854 EUREKA EVENTS WITH THE EUREKA DEMOCRACY AWARD AND ADDRESS.
With Special Guest Speaker: Professor Clare Wright
For more detail on how to book and the planned events on the night including a sneak peak at this years Democracy Award recipient, please download the Flyer by Clicking Here. With the event coming up shortly, ensure you book your tables early for the best experience.
-----------------------------------------------------------------------------------------------------
Annual Eureka Commemorations and Celebrations in Ballarat, Melbourne & Canberra
Eureka's Children present a number of Eureka events throughout the year and is represented on the Eureka Commemorative Planning Committee established by the Ballarat City Council.
Ballarat - Eureka Commemorative Programs and Events
Programs and events that Eureka's Children organise and present at the Eureka Anniversaries in Ballarat include:
- The Eureka Digger's March
- Demanding Democracy March and Theatrical Presentation
- Assisting St. Alipius Parish in presenting a Eureka Ecumenical Service.
We enclose, for your perusal, the link to the Digger's March Trail and Commentary from Bakery Hill to the Stockade. CLICK HERE. Also for your interest is an archived program of past Annual Ballarat Eureka Commemoration events CLICK HERE.
The Opening of the Museum of Australian Democracy at Eureka
Hundreds of people made the pilgrimage to the opening of the Museum of Australian Democracy at Eureka on the 4th of May, which was opened by Victorian Premier Denis Napthine. Other dignitaries included the patrons of MADE, ex-premier Steve Bracks and former Kennett government minister Robert Knowles, and current federal Ballarat MP Catherine King. Prime Minister Julia Gillard appeared via video link.
The weekend's launch celebration also included outdoor music concerts, face painting, children's craft activities, a gourmet barbeque and roving performers.
EUREKA'S CHILDREN'S PIVOTAL ROLE IN THE OPENING OF MADE
Three of the youngest descendants of the Eureka Stockade, being great great great grandchildren, cut the ribbon that officially opened the museum. They were Noah Lalor Philp – descendant of Peter Lalor – the leader of the Eureka Stockade and Olive Whitford and Ella Howard, descendants of Patrick Howard, a member of the uprising.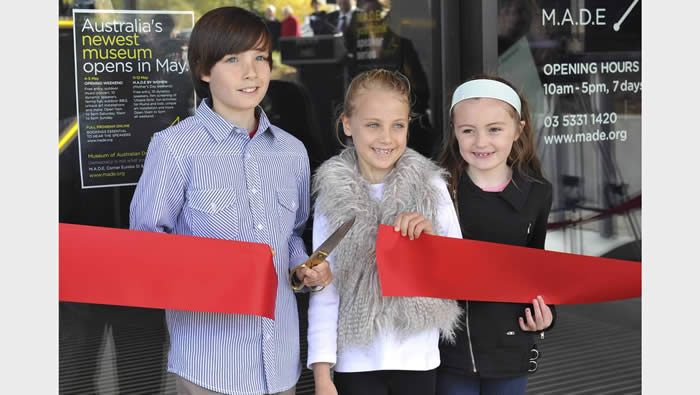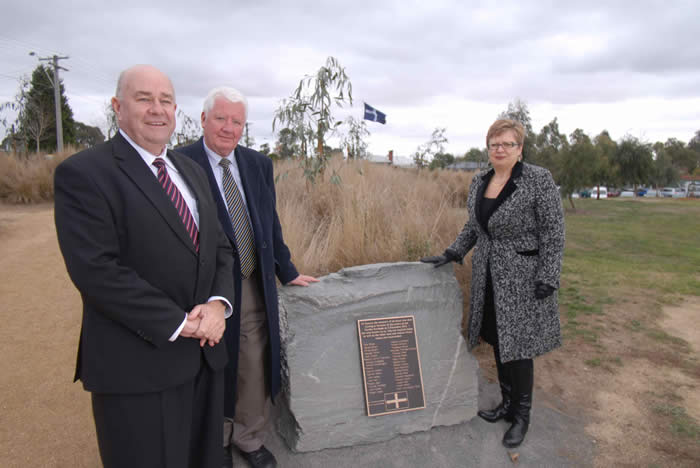 MEMORIAL TO THE FALLEN
On the same day, a new Memorial to the Fallen was unveiled on the grounds of MADE, along with a Pathway of Remembrance which recognized those who lost their lives as a result of the Eureka Stockade event. Eureka's Children facilitated the invitations to the various families connected to this memorial. Professor David Battersby, Chairman of MADE said that he appreciates Eureka's Children assistance in organizing these events as well as our ongoing consultative process with them. Eureka's Children are important to us. (At the Memorial are David Battersby, Eric Howard & Jane Smith, CEO – MADE)
-----------------------------------------------------------------------------------------------------
Eureka Democracy Award (Presented at Annual Eureka Dinner)

The Eureka's Children Annual Democracy Award is presented to an individual or organisation who by their actions have contributed to a more democratic and just society and which reflects the values established at Eureka.

Previous Winners: Prof. Weston Bate (2008); Emeritus Prof. John Molony (2009); Margaret Rich (2010); Dr Anne Beggs-Sunter (2011); Museum of Australian Democracy at Eureka (Ballarat) (2013); Ft Frank Brennan (2015); Phil Glendenning (2016)

The Annual Eureka Address (Presented at Annual Eureka Dinner)

Previous Presenters: Julian Burnside QC (2008); Emeritus Prof. John Molony (2009); Prof. Stuart McIntyre (2010); Dr Richard O'Brien (2011); Ft Frank Brennan (2015)

National and International Conferences

Our committee members and other members, always eager to promote and present the story of Eureka and its contribution to Australia's democratic tradition and ideals, take the opportunity to present papers at national and international conferences.

In 2011 our Vice-President Phillip Moore presented a paper 'Demanding Democracy: Eureka, the Reform Charter and the Irish' at the Australian Irish Studies Conference at the National Museum in Canberra - CLICK HERE